How To Equipping an Office?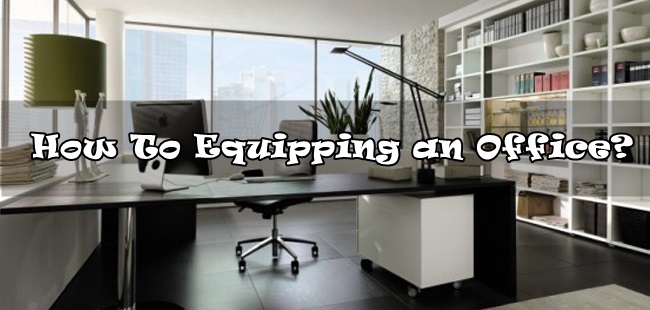 Equipping an Office
You do not always need to buy new office equipment for equipping an office. Secondhand objects are often much cheaper than new ones and may be hardly worn.
Consider improvising some items, particularly for storage and filing, in order to save money when outfitting a work area.
Choosing Office Equipment for equipping an office
Select the following items to equip your work area. These items should enable you to carry out all usual office tasks.
Commonable chair.
Computer or typewriter.
Answering machine.
Fax machine.
Address book.
Bulletin board. &
Paper and envelopes.
Pens and pencils.
Postage stamps.
Paper clips and adhesives.
Storing Stationery
Collecting mail items Keep a supply of stamps, new or recycled envelopes, air mail labels, and forms for couriers.
Keeping small items tidy
Put a cutlery divider in a drawer, and keep small items such as pens, rulers, and adhesive tape in it. Every couple of months, remove the divider, and dust it.
Equipping an Office, Maintaining Supplies of Office Stationery
Buying in bulk To save money, buy stationery in bulk. Form a group with other people working from home so that you can place joint orders.
Checking stock Make a list of stationery items. Before you have used up supplies of an item, cross it off the list. Replenish the stock regularly.
Recycling Paper
Minimizing waste Take waste paper to a recycling center, or give it to a firm that recycles its paper. Keep old envelopes in a box for reuse.
Making a Pencil Holder
Cut the neck off a plastic bottle. Attach the base to a board, together with a can and an aerosol can lid. Deconite the holder with paint, then keep small items in it.
Cleaning and Maintaining Equipment
Every few weeks, set aside time for cleaning office equipment. Done correctly, this regular cleaning will prolong the lifespan of the equipment. Check to see if any item is faulty, and arninge for problems to be repaired.
Keeping a computer dust-free Wipe the screen every day with an antistatic cloth. Cover the keyboard and screen when you have finished using a computer. Buy a specially made plastic cover, or make your own from a piece of lint-free cloth.
Storing cleaning items Keep cleaning materials in a labeled box out of reach of children.
Cleaning a telephone Wipe the mouth and earpiece with disinfectant. Use a soft brush to dust the keypad or dial.
Cleaning a typewriter Rub the characters on a keyboard using a toothbrush.
Using chemicals safely Before you start to use chemicals, such as cleaning fluid for computers, open a window so that you will not suffer ill effects from any fumes.
Dusting a mouse pad Keep a mouse pad clean so that the mouse can move over it easily. To remove dirt off a fabric- covered pad, wrap adhesive tape around your fingers, sticky side out, and rub it lightly over the pad.
Dusting a keyboard
Use a soft brush, such as a large cosmetic brush, to remove dust from the crevices in a keyboard. Check that the brush is clean, then rub the bristles on your hand to create static electricity, which will attract the dust.
Note:
For this article, "Describe factors to be considered when selecting office equipment to complete tasks, factors to be considered when selecting office equipment to complete tasks, factor considered in choosing office machine, factors to be considered in choosing offoce machine and equipment, factors to be considered when selecting office euipment to complete tas!s, factors to consider when choosing equipment and tools for sewing" terms have been used in searchs.
Look at the other similar posts:
Category: Do It Yourself