Designing Walls and Arches with Special Effects?
How To Designing Walls and Arches with Special Effects?
Use coloured paint, mirrors, and decoratively shaped trellises to create changes in a garden, both real and imaginary.
Brightening Walls
Whitewash If a garden is dark and gloomy, paint fences and walls with whitewash to lighten up the area.
Murals Add another dimension to a garden by painting a mural on a flat, vertical surface. To add to the illusion, place a real pot by a painted one, and match the colours of the plant with those in the mural.
Mediterranean style Put sunny walls and fences to use by planting climbers that require the protection and warmth they provide. Add terracotta pots of geraniums, pelargoniums, and nasturtiums to create a Mediterranean feel.
Adding Depth
Attaching a decorative trellis; Add a sense of depth to a garden by attaching a trellis with a false perspective to a wall or other flat, vertical surface. Plant up the trellis with a sprawling climber, and position shrubs around it to add to the illusion of reality.
Reflecting Space
Using a mirror; Attach a mirror to a wall or fence to increase light in a garden and give the impression of size and space. Be sure its position offers an attractive reflection. Cover mirror edges with wood, or plant with evergreen climbers.
Using Arches
An arch is often erected in the middle of a garden to link one area to another. It may also be placed randomly, acting mainly as a support for climbers. Attach an arch to a wall and create an arbour, to bring instant shade, seclusion, and privacy to a garden.
Positioning an Arch
Creating an arbour; Place a metal or wooden arch against a wall, and train climbers up it to make an attractive garden feature. Convert it into an arbour or secluded seating area by placing a bench inside.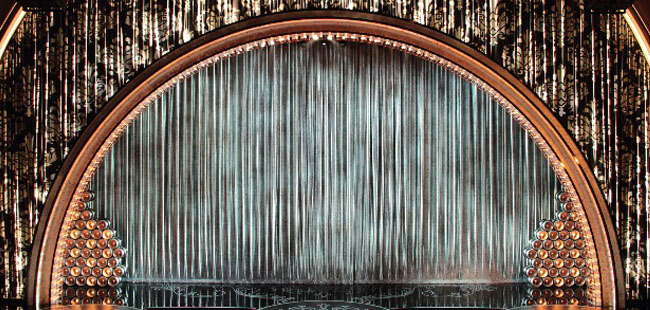 Working with an Arch
Outside room Convert part of a garden into an outside room by including seating space in a sheltered arbor. Consider adding a small table if space permits.
Selection Choose an arbor carefully if it is to be located in a central site all year round. A wooden arch can look good by itself, and need not be covered with climbers. Treat regularly with wood preservative.
Position Situate an arbor according to the amount of sun desired for the intended use of the garden – perhaps in the morning to eat a leisurely summer breakfast, or to enjoy the last of the evening sun.
Transforming an Arch
Fragrance When planning an arbor, include scented climbers in your summer planting design. If you are likely to use the area only in the evening, be sure to select plants that remain fragrant during the evening.
Illusion Place a mirror on the wall behind an arch to add a feeling of spaciousness.
Hiding place Link two arches together to create a miniature hideaway or summer play area for children.
Using evergreens If an arbor is to be used in early spring, late autumn, or winter, make sure that it has a covering of attractive evergreens as well as seasonal climbers.
Note:
For this article, "spanish metal wall arch" terms have been used in searchs.
Look at the other similar posts:
Category: Decoration